The Good Stuff Taxidermy Since 1977

George Roof Professional Taxidermist

359 Cypress Branch Road  Magnolia, Delaware 19962

Hours 9 to 9 Weekdays       By appointment  Phone 1-302-697-9606

I was born into a hunting family and the beautiful fur and feathers always intrigued me.  By the time I was 12, I knew I had to do something to save these memories.  My uncle had once enrolled in J.W. Ellwood's magic taxidermy course and though he never finished it, he gave me the books.  I memorized them and my first squirrels were crude wrapped bodies with black marble eyes.  My first bobwhite quail followed soon after.

The love of recreating these gorgeous creatures followed me and though I enlisted in the Air Force,  I was always able to find some creature to work with.  I did that for almost 30 years of nomadic military life.  About 5 years before my retirement,  I decided to transition into full time taxidermy and began to work in earnest.

I'd been an NTA member for some time and loved the way that this "closed shop" industry was changing.  I'll have to credit Ken Edwards of WASCO for giving me the final push.  His taxidermy.net/forums would prove to make me infamous and in 2001 I was elected to the NTA Board of Directors.  I served 3 years and was later elected Secretary in 2007.  I was fortunate to serve as the chair for convention seminars and met the dozens of fantastic artists that gather at those events.

I've been extremely fortunate to have found clients who hunt all over the world.  For a one man shop, I've mounted many species that even larger shops seldom see because of this one fact.  After 50 years, some of the luster has worn off of the commercial work aspect, but the excitement of turning one of Nature's creatures back into a memory still burns deeply inside.  I suspect this is one of those jobs you do for life or you die trying....literally.

About and contact George Roof.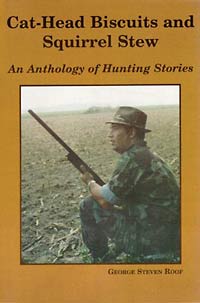 George Roof of Delaware designed a taxidermy tool for tucking hides into lifesized mannikin relief cuts.  On-line purchase available through WASCO.

Acclaimed by taxidermists and hunters alike, this book is filled with exciting adventures and down-home humor. On-line purchase available through WASCO.

Taxidermy.Net was created by Ken Edwards, and is sponsored by his company,
WASCO
.  It is the internet Masterpiece of Taxidermy Websites that provides a gathering point for ALL members of the taxidermy community.
A special public THANK YOU is extended to Mr. Edwards, and WASCO, for their generosity, and contributions in promoting modern taxidermy, and the taxidermy industry.


Contact Web Master

     Glen Conley

   1-866-849-9198

g.conley@verizon.net

Hide Tanning and Taxidermy               WHITETAIL SYSTEMS             REAL DEER FORMS

Proud and supportive member of  Delaware Taxidermists Association, United Taxidermist Association, and National Taxidermists Association.

George Roof also writes a weekly outdoor article for the Dover Post.

                  To view an on-line sample, click
HERE
.
WHITETAIL DESIGNER SYSTEMS